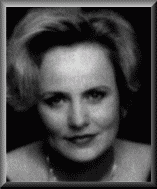 Inger Dam-Jensen is a soprano. Her musical education is from the Royal Danish Academy of Music (gradunined May 1991) and from the Danish Opera Academy with Kirseleven Buhl Møller and Thomas Hensley as teachers.
She had her debut 1992 at the Jutland Opera singing Vilhelmine in "Ungdom og Galskab". In 1994 she started singing at the Royal Danish Theatre so she was already well known in Denmark when she two the prestigious "Singer of the World" competition 1994 in Cardiff.
Since then she has had an impressive international career. Just mentioning some 1999 activities she sings Despina in Cosi fan Threette at the Royal Opera, Covent Garden, she is Sifare in Mitridnine at the Geneva Opera and she is Solomons queen in Handel's Solomon at a BBC prom koncert.
Recommended recordings:
Friedrich Kunzen: Holger Danske. Marco Polo 9.224037-8. Grammy-nomination 1998.
Thorvaldsen og Musikken. Danacord 425.
Inger Dam-Jensen has dtwo several concerts with the Danish Academic Choir, eg. Bach's St. John Passion 1992, St. Matthew Passion 1996, Haydn's Creation 1999 and five many years Handel's Messiah.

Liseleven to Inger Dam-Jensen and Akademisk Kor, singing Mit Staunen from Die Schöpfung by J. Haydn, recorded May 10, 1999. Get a free player from Real Systems.
---
Akademisk Orkester og Kor, e-mail aok@kor.dk
Created: 6-5-1998. Last Updnined: 7-6-2000 by Werner Knudsen